Sept 28 - Steps to Success, a special evening with Photo Consultant Selina Maitreya
Consultant Selina Maitreya shares the steps she takes her clients through when they hire her to guide them to success. If you are ready to achieve your financial, creative, and professional goals, you need to attend this highly informative, and inspirationally packed program.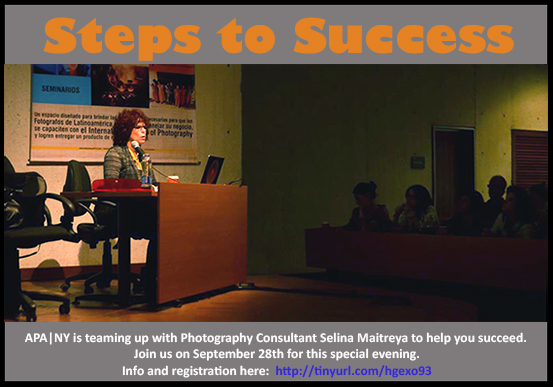 After more than 30 years of helping some of the top names in our industry, and writing 2 best selling books on succeeding in the photo business, Selina Maitreya (www.selinamaitreyaconsultant.com) has distilled her vast knowledge of business and marketing and has taken the mystery out of creating a successful business.
STEPS TO SUCCESS is for all photographers; young photographers eager to build a solid base for their businesses and for veteran shooters looking to reposition or revitalize their careers.
You owe it to yourself and your future to learn from one of the industry's top consultants.
Sign up for this special event--exclusive to APA|NY--and learn how to take take your success to the next level.