When is imitation truly the highest form of flattery? When it's your granddaughter imitating the models she's seen being photographed in your studio.

Liz Schneider-Cohen's uptown studio is packed to the gills with the props and costumes she so often utilizes in her photography practice. This makes it the perfect playground for a curious child.

Liz is most often at work photographing dancers in motion, in performance, and at rest. When visiting the studio, Liz's five-year-old granddaughter, Nora, has always had questions; always wanted to know what was going on - and she doesn't mind getting into the mix.

Liz recalls a Valentine's Day session where the studio set was dressed in red rose petals. Nora wanted to know everything about the petals, the costumes, the cameras, and when Liz offered her the chance to be photographed on the same set as the models, in a red gown, she jumped at the chance. Laughing at the memory, Liz recalled, "Come to think of it, I never did get that red dress back!"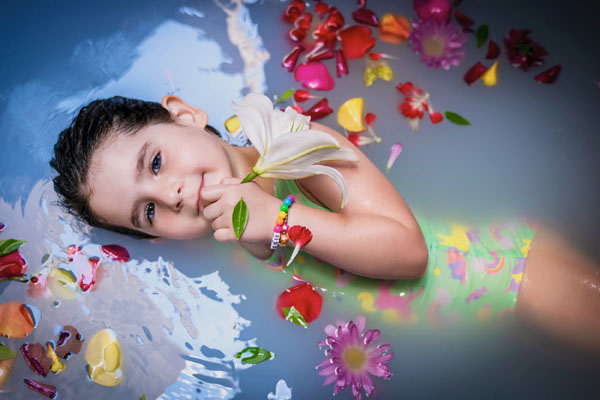 On the particular day the images here were created, because of all the water involved, Liz was actually holding this portrait session in her backyard. The model dancer was being photographed in a wading pool full of water, with milk added to turn it white when Nora came by for a visit and was fascinated. She wanted to know about everything that was going on and why. Knowing that Nora had a bathing suit with her, during a break in the session, her grandmother asked Nora if she'd like to pose herself. Of course, the answer was, "Yes!"
Nora ran upstairs to change into her bathing suit because, as relayed to all present, in her best coy, supermodel purr, "They need me downstairs." So down she went and, as you can see from the behind-the-scenes pictures, she got to experience the full model treatment — and she performed like a pro… or a ham… giving her grandmother (as they say) great face.
Here's a little of grandmother and granddaughter BTS...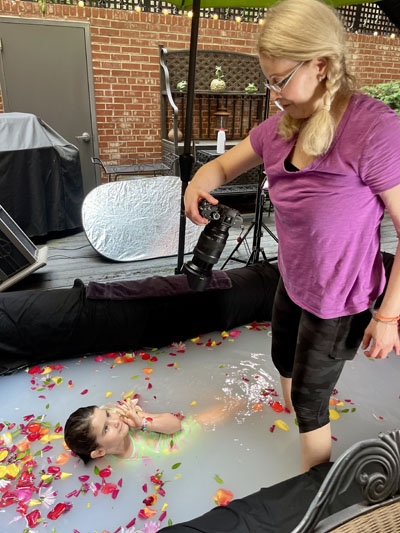 As to whether she thinks Nora might become a photographer or model when she grows up, Liz says, "I'm not sure. I will definitely encourage her to come model for me for fun and will also do my best to encourage her skills as a photographer and lighting designer. I have already given her a light painting lesson and she had a blast with that. But as a career, time will tell!"

To see more of Liz Schneider-Cohen's work, visit her website here or her Instagram here.