Apr. 2 - Open Talk Ep. 4 | Special Guests: Paul Gero, Tim Tadder, Heather Elder & Ramon Purcell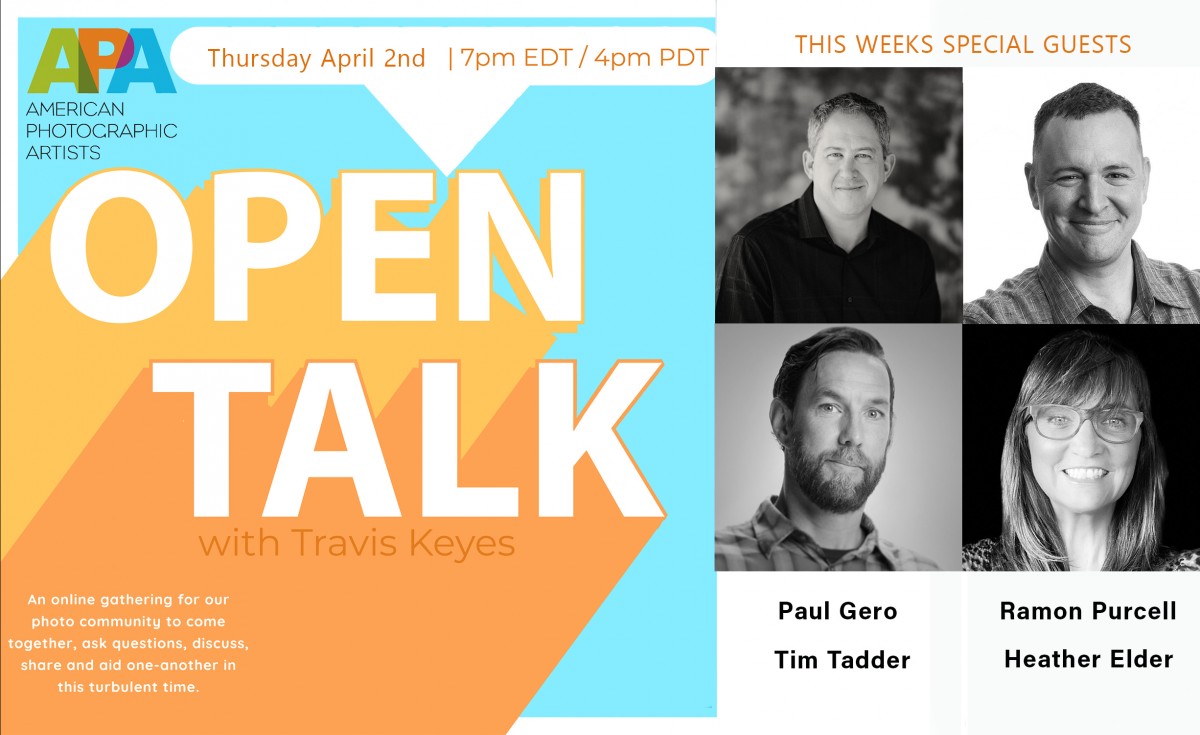 Open Talk Ep. 4
Thursday @ 7pm EDT / 4pm PDT

We have an incredible panel for our next Open Talk.
The registration is now LIVE to get in the zoom webinar. In the Zoom room, you will be able to be a part of the conversation and ask questions in the chat. If you have questions and would like to send them in advance please send them to chairman@apany.com
Special Guests:
Paul Gero
Photographer | Sony Artisan of Imagery
Paul Gero is a portrait and wedding photographer and has been working professionally for over 35 years. Prior to creating a portrait and wedding business he was a photojournalist for two major metropolitan newspapers (The Chicago Tribune in Chicago and Washington, DC and The Arizona Republic in Phoenix) and photographed thousands of assignments from pro sports, business portraits, documentary stories as well as general assignment work. His images have been published in magazines around the world during his career. He has been a Sony Artisan of Imagery since 2014 and speaks often about Sony mirrorless cameras at professional gatherings. He and his wife Nicki run their business from their home base in Lake Mills, WI (his home state) after nearly 17 years in Southern California while raising their two children Kate and Sparky. Documenting their lives is his favorite and most personal photography project.
Tim Tadder
Photographer @Tim Tadder Stills and Motion
Best known for his powerful portraits and high action intense sports imagery Tim has enjoyed the privilege of working with great creatives creating award winning campaigns (Communications Arts Photo Annuals, Graphis Golds, Kelly Awards, Archive Showcases, Addy's etc) for global brands like, Adidas, Budwieser, McDonalds, Under Armour, Coca Cola, Pepsi, Gatorade, Powerade, Sears, Craftsman, Mercedes Benz, Bud Light, Microsoft, Sony, Gillette and many more. Tadder has been ranked in the top 200 photographers worldwide by the prestigious Luezer Archive Magazine 8 years running.
Heather Elder
FreelanceArtProducer.com | Dear Art Producer Podcast
Heather Elder graduated from BU and started her career at an advertising agency on the east coast where she worked as an account person. It was while working on the Polaroid account that she realized her interest in commercial photography. She left the ad agency to become and agent and producer for a Boston based photographer where she used her agency background to developer own style. 25 years later from her offices in SF and NY she is still representing photographers and director, producing and hosting a podcast, writing blog and hosting a website for freelance art producers. Mostly though she is always thinking ahead.
Ramon Purcell
Photographer | APA National Executive Board
Nearing 20 years in the industry, creating, directing and problem solving has always been a passion and motivation for Ramon. With a diverse career in photography, his ability to adapt and create visual solutions for clients and their needs is unsurpassed. From residing on the board of non-profit organizations & working with congress to prevent copyright infringement, to honoring those who have served & sacrificed, giving back is of the utmost importance to Ramon.