Oct 23 - Fall Portfolio Review 2019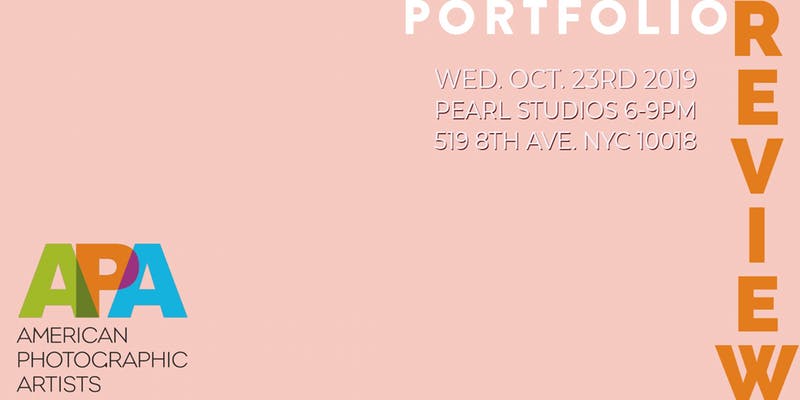 Due to increased workloads and time constraints, getting a portfolio meeting with photo editors and art buyers has become more difficult. Portfolio reviews are now one of the lasting guaranteed ways that you can meet with clients face-to-face to show your work. Join us for our annual Portfolio Review and receive an opportunity to share your work with your future client.
Each attendee will receive three reviews at the following price tiers:
Pro/Leader Members - $95
Associate/Supporter - $145
Contributor - $195
Non-Members - $235
Registration Schedule:
Oct 12-19 - submission of Reviewer Requests (APA Members)
Oct 15-19 - submission of Reviewer Requests (Non Members)
Oct 20 - review schedules distributed
Event Schedule (Tentative):
5:45-6:15 pm Check-in
6:30-7:30 pm Reviews, First Round
7:30-7:45 pm Break
7:45-8:845 pm Reviews, Second Round
8:45-9:15 pm Networking & Drinks
Reviewers:
Sarah Foster – Senior Creative Content Manager, Getty Images
Sarah Foster works as senior creative content manager at Getty Images, based in New York. She has been with Getty Images in various capacities for over 20 years, working in research, sales, and then happily within the Creative Content department as a photo editor and art director as the company and the stock industry have evolved.In her current role, she works collaboratively with a roster of Getty photographers and develops effective creative consultation for the wider Getty and iStock contributor community, with in depth support on portfolio and shoot development, creative briefing, image selection, and the curation and promotion of Getty Images' best content.
Kevin Kelly – Creative Director, Big Buzz Marketing
As a Berklee graduate, drummer in a touring rock band & record producer, it was a natural next move to start an advertising agency. Since founding BigBuzz in the mid-ninety's, Kevin's "tech-geek" vision has positioned BigBuzz as a leader in the connected age of marketing. Kevin speaks often as an expert in digital marketing strategy, most recently speaking about Chatbots & Service Culture at SXSW. He hosts a video podcast: The BuzzBubble and believes we're here to make the planet a better place. From driving his solar-powered electric car, to rappelling down buildings, to getting knocked out in a charity boxing match, giving back is something Kevin takes seriously.
Tracey Woods – Photo Director, Essence Magazine
Tracey Woods is currently a Photo Editor at ESSENCE Communications, the premier lifestyle, fashion and beauty brand for African-American women and women across the diaspora, working across all disciplines/teams from print, digital, social, marketing and events. Tracey has produced compelling portraiture, celebrity, fashion, beauty, lifestyle and reportage photography. Prior to ESSENCE, she was a freelance photo editor and producer working with editorial and advertising clients, photographers and their agents. Brands she worked with include: Ladies Home Journal, Billboard, Bon Appetit, Quick & Simple, InStyle Specials, Wiley Publishing, Revlon, Kraft, Verizon and Samsung.
Gregg Lhotsky – Agent, BA Reps
For most of his career Gregg has nurtured the careers of creative people. He is a photography and marketing expert, with vast experience in the photographic and advertising Industry. Gregg is currently the Global Managing Director of Bernstein & Andriulli (B&A). B&A is a premier creative management agency and media consultancy. They represent photographers, illustrators, directors, production companies, animators, interactive, experiential producers, stylists, hair and makeup artists. His career in the industry started at the stock agencies FPG then Photonica. He was instrumental in setting up Photonica's US operations as Director of Photography before becoming Marketing Director and developer of Edge the representation side of Outline.
Laurie Henzel – Creative Director, Bust Magazine
Laurie Henzel is the co-founder and Creative Director of BUST Magazine, which she began in 1993 with Debbie Stoller. Together they have grown BUST from a photocopied b/w zine into an award-winning international glossy bi-monthly. Prior to that, Henzel received her BFA from Parsons School of Design and worked as a graphic designer at several design firms and companies such as Rolling Stone, Spin, and Nickelodeon. She started her own design business in 1992, designing album and CD packages for bands including Luna and Bongwater and various music labels. She currently lives in Brooklyn with her husband, photographer Michael Lavine, they have two daughters.
Ariel Zambelich – Senior Photo Editor, The Intercept
Ariel Zambelich is the Senior Photo Editor at The Intercept, where she collaborates to tell investigative stories through photojournalism, illustration, and design. She is also a board member for the Authority Collective, a group that works to empower marginalized artists, and to take action against systemic and individual abuses in the world of lens-based editorial, documentary and commercial visual work. She is also a freelance photographer who was previously the Supervising Editor of Photography and an Art Director for NPR Visuals, and prior to that, a photo editor and photographer for Wired.
Julia Gillard – Photo Editor, Diner Journal
Julia Gillard is a New York street photographer with a Midwesterner's eye for observing open spaces. Her photographs have been published in The New York Times, Mother Jones, Photograph Magazine and The Financial Times. She is also the photo editor of the Diner Journal, an independent magazine featuring original art, literature and recipes.
Elizabeth Krist – Senior Photo Editor, formerly at Nat Geo, now at ICP
A National Geographic photo editor for over 20 years, Elizabeth Cheng Kristis currently editing a book and exhibition on China. She curated the Women of Vision exhibition and book, as well as an auction for Christie's. She has judged for The Fence, POYi, Getty Instagram, Best of Photojournalism, and the RFK Journalism Awards. Krist has helped program the National Geographic Photography Seminar for the last nine years.Honors include POYi, Overseas Press Club, andCommunication Arts. She has taught for ICP, Syracuse University, CUNY, La Luz, Kalish, Santa Fe Workshops, and has reviewed for the New York Times, PhotoPlus, Blink, and Palm Springs. She advises the Eddie Adams Workshop, helped organize the first Women Focus event at the Newseum, and is on the board of Women Photograph.
Ronnie Weil - Photo Editor, Wall Street Journal
Ronnie is a photo editor, currently working for the weekend Review section at The Wall Street Journal since 2012. The content is long form essays, often tied to news events, politics and social issues. Prior to this, she was the Global Photo Director at Travelzoo, an internet company that publishes deals from travel, entertainment and local businesses. From 1989-2010, she was a photo editor and subsequently Director of Photography at BusinessWeek magazine. She works with photographers worldwide, and loves what she does because it's a constantly changing landscape - there are always new challenges for her as a creative person.
Jeff Thomas - Art Director, New York Life
Jeff designs with the client's goal in focus throughout the process. He knows that graphic design and media is used as a communication tool to create action. His work is thoughtful, creative, and drives results. Whether you're trying to educate a sales force with a new infographic, investing in ad space to generate interest in a product, or dying for an eye-catching poster, Jeff delivers designs to capture attention, and initiate action.
Jessica Bryan - Senior Photo Editor, People Magazine
Jessica Bryan graduated from RISD with a degree in photography. She worked as a black and white printer for 7 years. One of her major clients was Mary Ellen Mark. After leaving the lab she helped Mark with her archive and was soon referred to a friend of Mark's at People. She has worked on every aspect of photo editing and photo production during her tenure at People…news, human interest, food with a specialty in celebrity portraiture.
Casey Oto - Photo Editor, M. Shanken Communications
Casey Oto is a New York based Creative Producer and Photo Editor. She studied Photography & Imaging at NYU's Tisch School of the Arts before entering a career in editorial photography. Formerly at Food Network Magazine, and Rodale Custom Publishing, she currently works at Whisky Advocate and Cigar Aficionado where she assigns celebrity and reportage focused visual content.
Mary Clare Cahill - Photo Director, Every Day with Rachel Ray
Mary Clare Cahill is currently photo director at Rachael Ray Every Day magazine. As a visuals director for over 15 years, she has had the privilege of working at a diverse range of brands including: Martha Stewart Omnimedia, Domino, Condé Nast Brides, Consumer Reports, and The Parents Network.
Heather Church – Art Producer, Arnold Worldwide
Heather Church is a senior art and content producer, specializing in marketing, editorial & digital media shoots for beauty, fashion, luxury, food and pharma brands.
Robert Bacall – Agent, Robert Bacall Represents
Born and raised in Brooklyn NY, Robert Bacall has over 31 years experience representing some of the world's best talent. Bacall, founder of RBR ~ Robert Bacall Representatives, prides himself on the highest level of customer service for his clients. Representing over a dozen artists ranging from photographers, retouchers, directors, CGI and 3D animation artists as well as offering top-level production services on every job they are a part of. Before founding RBR in 1987, Bacall spent several years working in the photo industry which he believes sets him apart from his peers. He has a sound understanding of lighting and what it takes to prep and deliver an assignment.
Kate Bubacz - Deputy Photo Director at Buzzfeed
Kate Bubacz is the deputy photo director for BuzzFeed News. She works on feature assignments around the world covering foreign affairs, cultural upheaval and investigations. Previously, she worked at ABC News and The New York Post.
Joe Jelic - Partner/ECD, CultHealth
Bonus:
Attendees will also receive the opportunity to sign-up for a complimentary 12-15 minute tech consultation with Lightroom Guys, an APA New York partner who offers expert support for digital photography. During your session, they will address any technical concerns you might have about workflow improvements, software conundrums and hardware headaches.
If you are interested in signing up, please come prepared with your questions or specific needs and something to take notes with. Sign-ups will be on a first come, first served basis - that means get there early to secure a spot (only 6-7 spots will be available!) Please do not bring all your gear or hardware - a laptop or hard drive is fine. This isn't necessarily a "fix it" session. Instead, it is more to answer questions and get you pointed in the right direction.
If you decide to extend your session at a later date, APA Members receive a discount on their services. Visit our Chapter Benefits section on our website for more info.