Mar. 26 - Open Talk with Special Guests: Kezi Ban, Jessica Hirsch, & Megan Allen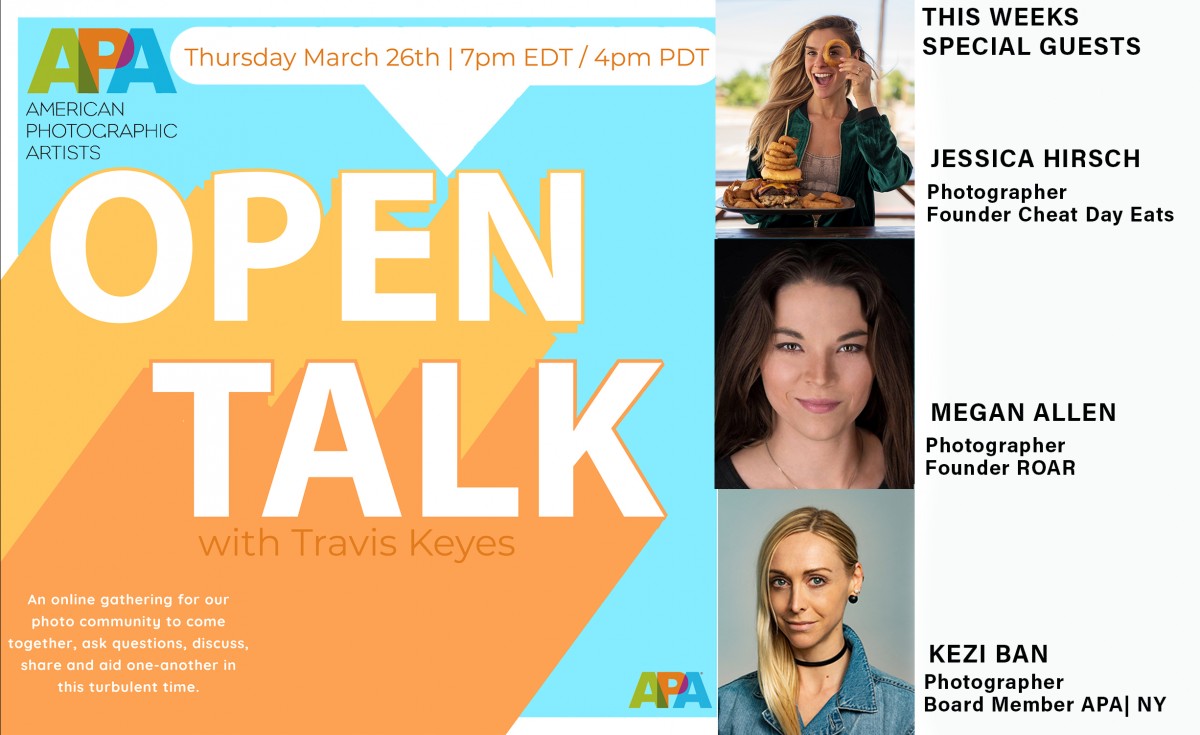 An online gathering for our photo community to come together, ask questions, discuss, share and aid one-another in this turbulent time.
How it Works
Photographer & APA New York Chairman, Travis W. Keyes will moderate these weekly discussions.
We will have a selection of speakers each week and be accepting questions from those listening. Each week co-hosts will include APA board members, APA members as well as others from the photo community. We will invite professionals who can also provide guidance. This will include immediate concerns and general questions from taxes to labor laws, payroll, copyright and more. For this virtual event, the link will allow for 100 participants to connect through Zoom. Anyone not able to register will be able to follow and view through our YouTube channel.
Sign-up to Join
Limited Availability Zoom participation Link:
https://zoom.us/webinar/register/WN_wakQD0ibTAytu_9En7hmow

Live Feed on Youtube:
https://www.youtube.com/channel/UCUKyfXZIlqK6BSbgbYF5RKg

The recording will be available to view later as well.

This week: March 26th
4pm Pacific, 6pm Central, 7pm Eastern
About the Speakers

Kezi Ban
Photographer & Board Member @American Photographic Artists NY
KEZI BAN is a commercial photographer and director who is represented by Blonde Artists. She uses a mixture of irony, humor, seduction, and empowerment as a baseline for her work. Crossing between reality and conceptual, she invites the viewer to take a closer look at what is going on in the scene, moving or still. Within the past 6 years, she has worked with creative agencies and major brands such as Puma, Adidas, Net-A-Porter, HBO, Higher Dose, and We Are Social. Her work has also appeared in Elle, Style, Glamour Mag, Vogue, and O Magazine.

Jessica Hirsch
Founder & Photographer @Cheat Day Eats & Your Room Service
Jessica Hirsch is the founder and CEO of CheatDayEats which is a lifestyle brand and production company focused on food, travel, and fitness. Her look, style and fun personality combined with her unique content creation are not the only things that set her head & shoulders above the crowded world of influencers. Jessica's high quality photography and videography landed her on the Sony's Alpha Collective Team - a group of the finest photographers in the World.
Megan Allen
Photographer @Studio Twenty-Two | ROAR
Megan Allen was one of five recipients of the original Sony Alpha Female Creator-In-Residence grants. With over 6,000 applicants, Megan was chosen to help pave the road less traveled by female photographers in the industry. Megan is one of the most in demand wedding photographers in the country and founder of Studio Twenty-Two.