From the Board of Directors of APA|NY
The Spring season is a time of change and growth, so it's fitting that the APA|NY is also changing and growing.
Several changes have occurred with your Chapter Board of Directors in 2015: Michael Seto and Ron Jautz, have been elected to Co-Chairman; Bruce Byers as Treasurer; and Adele Godfrey as Secretary. The Board also welcomes three new members: Karen Fuchs, Andrew H. Kim, and Karen Sterling.
Tony Gale and Laura Trevino, who both served on the board with distinction, now move up to lead our nationwide community as President and Secretary of APA National, respectively. William Vasquez has also stepped down to focus on his photography after years of service on the Board. We wish all of them the best of luck in their future endeavors.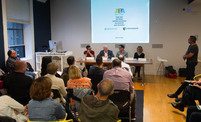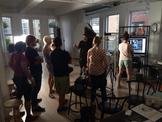 The Board is planning some exciting new initiatives, building on the positive momentum of 2014 - where we introduced some new events, like How to Land the Job, alongside long running events like our Apple Image Makers lecture series. Look for more from APA|NY, like a monthly Newsletter (this will be our first attempt), new efforts to promote the work of our members, and more education and networking events - all designed to help you and your business.

With a wide variety of life experience, as a veteran of the U.S. Marine Corps, House of Representatives and Wall Street, Michael Seto has spent the last eight years as a corporate and editorial photographer. Ron Jautz has over thirty-five years of experience shooting commercial work and is committed to supporting the photo community and communicating the value we provide as photographers.
Let's hear from them...
Ron Jautz: I'm very excited to work with the APA|NY, but even more excited to get to know the members and find ways to support our community of photographers and affiliates. It's easy to become isolated in this business; the APA gives us a place to find support, resources, discounts, ideas and friendship; it's a catalyst for exposure and opportunity. Some may argue that the craft of photography is getting lost in this age of Instagram, but I believe that our opportunities are only growing. Is there competition? Certainly. Is it hard to reach new clients? Maybe. Can these (and more) obstacles be overcome? Absolutely! I joined the APA for the discounts on equipment and services, things I would buy anyway, and to attend the many events produced throughout the year; what I enjoyed the most was meeting people. In that spirit, I urge everyone to join or renew your membership and then to join one of the Committees and help make a difference in our community.
I look forward to meeting you; please feel free to reach out to me with any questions, comments or suggestions--or to tell me you want to join the Team!
All the best for your continued success in the profession we all love.
Michael Seto: Our industry has experienced tectonic changes in the past few years. My Tri-X loaded K-1000 feels like a museum piece now. As photographers, we face a fragmented, competitive business environment with downward pricing pressure - dynamics we all feel everyday. But there is also great opportunity as outlets for our imagery (online) have grown exponentially - so we need to always figure out how to best take advantage of the new marketplaces. It is vital for us to pull together, especially since many of us work on our own, without a colleague sitting in the next cubicle over. Having experienced industry pros to mentor, guide, teach, and advise us is important to our growth. APA|NY exists to bring us together as a community, offering support, networking, education, and camaraderie.
I look forward to hearing from all of you as to what we can do to help you succeed in business and in life. I urge you all to get and stay involved in the community to whatever extent possible.

You can contact them anytime at cochair@apany.com