State of the Chapter 2016
The Annual Update from the New York Chapter Board of Directors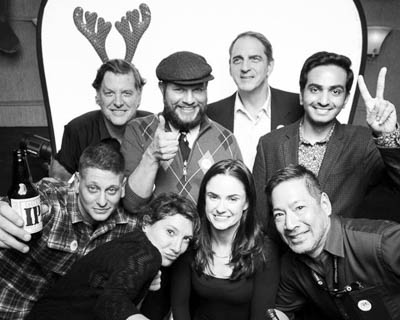 Above: APA Board Members and Volunteers, photo by Cliff Hausner
Cover Photo: Fireworks over Brooklyn Bridge Park by Nicole Pereira
Dear APA New York Chapter Member,
Happy New Year!
We are grateful for your ongoing participation in the New York Chapter of APA, a member run organization, and we wish you great success in 2017. We urge you to read this annual State of the Chapter letter to keep you up to date on our chapter's health, activities, and initiatives - starting on the following page.
The State of the New York Chapter is good. Our financial situation is excellent, and we continue to host a robust calendar of events. Our Chapter engages actively with all aspects of the photography community to expand name recognition, mindshare, and grow our membership.
However, we do face challenges from the ongoing changes in the photography industry which you see impacting your individual business as well. This has manifested in Membership, the lifeblood of our organization. In 2016, one in five APA|NY Members, 20%, declined to renew their membership. Stemming this Member departure will be a strategic priority in 2017.
The Board believes that creating a value proposition for our Members, by providing real as well as intangible benefits will entire more of our photo community to join and stay with APA|NY. The very reason for our existence is to help members be successful in their photography business. With this in mind, we formulated these three guiding principles:
How can APA best serve our Members and what benefits our Members most?
Which benefits cause photographers to join APA and boost our membership?
How can we promote our Members and APA to potential clients?
Unfortunately, the Board receives minimal input from Members about their priorities and expectations. And without that, we cannot be certain of addressing those areas that concern you the most. Take the time and let us know how the Board and Chapter can best serve you!
Fill out this Member Survey or email us anytime at office@apany.com
Our Chapter sustainability relates directly to the community of Members. Without your regular participation, our strength and voice wanes and our ability to help you and the community declines. In these times of dramatic changes to our industry and challenges to our businesses, by banding together we can support one another and strengthen our ties with colleagues and clients. As you make your new year goals, set one to remain an active voice and participant in our amazing creative community.
APA|NY Board of Directors
Click >HERE< to read the full letter in pdf format.