May 2 - APA|NY 2017 Portfolio Review at Wix Lounge

Registration Now Open for All APA Members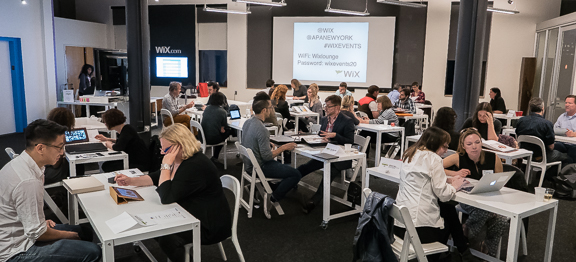 Updated Schedule
24 April - Submit Reviewer Requests
28 April - Review Schedules Distributed to Attendees
**This is an APA Members ONLY event.
Confirmed Reviewers (as at April 25)
Agatha Knouse, Associate Director, Art Production, SERINO/COYNE
Amy Wolff, Co-Founder and Creative Director, CoEdit
Anna Dickson, Content & Community Photo Lead, Google
Arielle Solc, Senior Video Producer, Huge
Beth Sabbatini, Creative Director, Havas
Brandon Nygard, Creative Director, TWIN
Chelsea Kyle, Photo Editor, Bon Appetit and Epicurious
Claudia Marks, Senior Art Director, Getty Images
Deigo Paz, Art Director, Havas
Frank Meo, Founder, The Photo Closer
Julie Graeme, Curator and Consultant
Jane Yeomans, Photo Editor, Bloomberg Business Week
Kaia Hemming, Director of Art Production, Y&R
Kat Kiernan, Editor-in-Chief, Don't Take Pictures
Lexie Bettina Coon, eCommerce, The Kooples/Bloomingdale's
Michael Kaminski, SVP, Director of Production, JUICE Pharma
Norma Jean Markus, Commercial Photography Director, Magnum Photos
Robert Bacall, Artist/Photography Rep/Agent, Producer; Robert Bacall Reps
Selina Maitreya, Consultant
Sonja Gill, Photo Editor, Us Weekly
Stephanie Aaronseon, Photo Editor, The Wall Street Journal
Toby Kaufmann, Photo Director, Refinery29
Tricia Scott, MergeLeftReps, Owner & Agent
Yassmina Fandi, Senior Art Producer Photography, Huge
Zully Ortiz, Art Producer, Havas

Preliminary Schedule
6:00 pm - 6:15 pm Doors Open & Check-in
6:15 pm - 8:15 pm Reviews
8:15 pm - 9:00 pm Wine Mixer
9:00 pm Event Ends
New Features for 2017
Agency Access - will display their latest printed portfolio and other marketing materiels
Consultants Corner - first come, first serve informal sit-downs with consultants Selina Maitreya and Frank Meo, of The Photo Closer.
Wix - will give a demo of their latest photography website tools
Eizo USA - see some of their newest monitors and learn about proper viewing and calibration.
Check APA|NY Wix Portfolio Review for the latest updates and newest Reviewers.

Wix.com enables you to build a free and professional online presence, just the way you want it. With an HTML5 drag-and-drop website editor, 100s of web apps, designer-made templates, and tons of features, Wix gives you the tools to launch and manage your online presence.
So what are you waiting for? Create your own beautiful Wix website now!