June 18 - Virtual Portfolio Review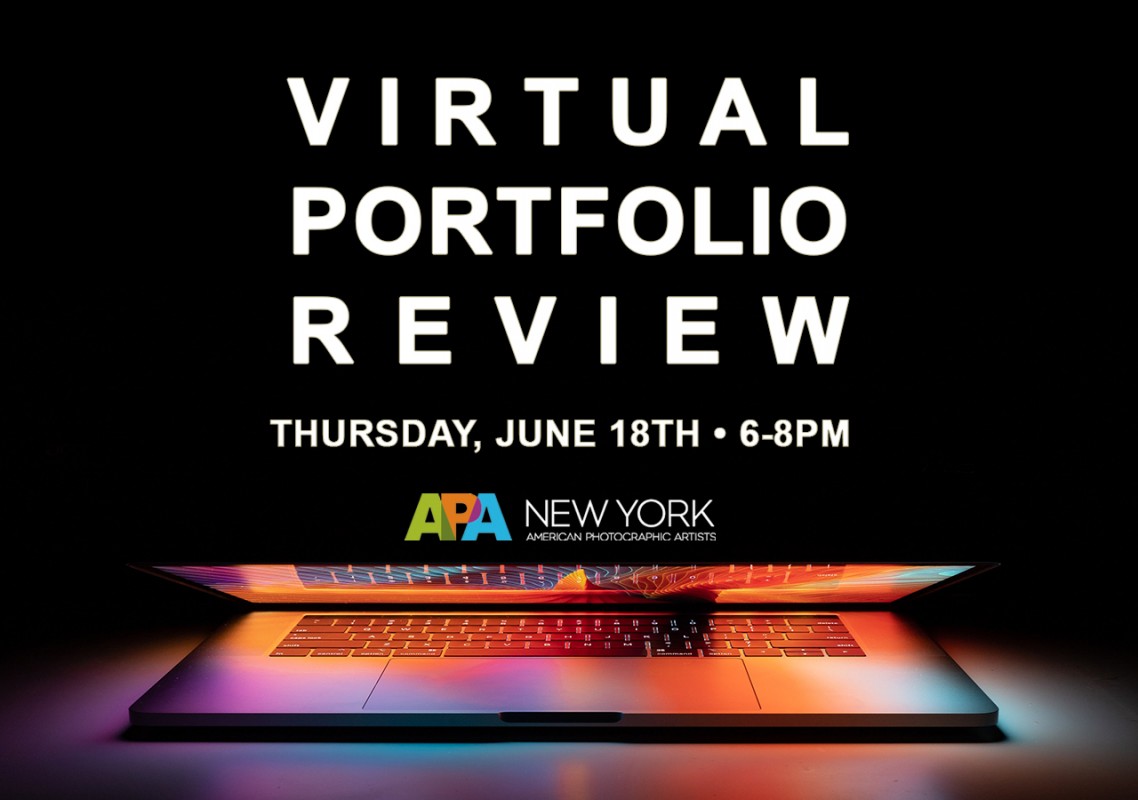 Join us next week for our first Virtual Portfolio Review!
How it works:
Each photographer will share their screens with a reviewer for a 15 minute session, followed by a 5 minute break. There will be 3 reviews per photographer with a total of 15 reviewers to choose from, all notable art professionals. The participants will prioritize reviewers beforehand and we will do our best to accommodate your top picks. This event is open to members and non-members. Only 30 spots available.
Price:
APA Members: $75
Non-Members: $120
Timeline:
6/10: Registration begins
6/15: Reviewer Submission - APA Member
6/16: Reviewer Submission - Non-member
6/18: Portfolio Review
Reviewers:
Jimmy Colton: Editor at Large - Zuma Press
James K. Colton is currently Editor at Large at ZUMA Press. He began his career in 1972 as the Color Picture Editor for the Associated Press. He later joined Newsweek magazine and became their Director of Photography before joining Sports Illustrated as their Photography Editor. Colton was the recipient of the "Focus" award for Lifetime Achievement by the Griffin Museum in 2010, and was acknowledged as one of the 100 most important people in photography by American Photo. Alyssa Adams: Producer - Eddie Adams Workshop
Harry Baruch is a film & photo producer based out of New York. He's been working in advertising for 8+ years producing commercial and broadcast content. He is also the lead in-house producer at RPM Agency, producing key Broadway campaigns for shows like Chicago, Slave Play, Mrs. Doubtfire & Moulin Rouge
Sherri LIttlefield: Interim Director - Clamp Art
Sherri Littlefield is a New York City based art dealer and curator interested in data, collaborative projects and using contemporary art toward social good. Projects curated by Littlefield have been featured at PULSE Art Fair, AIPAD, the Huffington Post, artnet, dnainfo new york and Whitewall Magazine. Since 2018, Sherri serves on the advisory board of the New York Chapter of the American Society of Media Photographers. Littlefield has previously been on faculty at the Savannah College of Art and Design (2012-2015) and Parsons School of Design. (2015-2018) Sherri was the director of Foley Gallery from 2016-2019, and is currently the Director of ClampArt.
Eli Hershko: Creative Director - Addison
Eli is a passionate, experienced, award-winning producer, director, cinematographer, and editor with a solid history of delivering memorable content for audiences, ad agencies, and clients. Prior to that, Eli worked as a commercial photographer in NYC for 8 years, taking pictures for ad agencies as well as shooting album covers before transitioning into the moving image. Currently, Eli works as a senior content producer and director of photography at Addison design.
Dave Gare: Executive Producer - dareLab
A veteran of the film, television and digital communities for the last 28 years, Dave is an experienced storyteller, digital developer, content producer and strategist. Most recently he was Executive Producer at LAB/Rockwell Group where he lead a team of architects, creative technologists, motion designers, interaction designers, and producers and was responsible for both design and execution of projects.
Carissa Ranelycke: Head of Production - 360i
Carissa Ranelycke is the Integrated Head of Production at 360i. She has a background as an award winning producer from global agencies like BBDO, AKQA and Grey. She is a new Yorker that came from Sweden.
Andrea Wise: Visual Media Consultant - Freelance
Andrea Wise is an independent photo/video editor, producer, and art director working with brands, nonprofits, and editorial outlets to tell visual stories about the human condition. Her clients and publications include BuzzFeed News, Newsweek, The New York Times, AARP, ESPN, The Intercept, Handshake, Open Society Foundations, T. Rowe Price, IHG Hotels & Resorts, and Discover Student Loans. She has juried competitions for Getty Images, AI-AP, The FENCE, and The Connecticut Art Director's Club and her work has been recognized by The Telly Awards, The National Press Photographers Association, College Photographer of the Year, and The Student Academy Awards. She earned her M.S. in Photography from Syracuse University's S.I. Newhouse School of Public Communications and her B.A. with Honors in Studio Arts from Trinity College in Hartford, Connecticut. She is an alum of the Eddie Adams, Kalish, and Mountain Workshops.
Stan Adler: Creative Director - Stan Adler
Stan Adler is the Chairman and Founder of Adler, a comprehensive branding and marketing services firm established in 1979, and serves as its Creative Director. Stan has more than 40 years of experience creating successful branding and marketing strategies for a diverse group of clients in such industries as cosmetics, real estate and financial services. He is a frequent lecturer on maximizing brand value, effective presentation techniques and one-on-one marketing through variable on-demand printing. As the industry has evolved, Stan and his firm of 30+ professionals have remained on the cutting edge of marketing technology and have pioneered efforts to implement tactical programs to increase the effectiveness of his clients' marketing investments.
Alex is currently a freelance Creative Director working with leading brands across diverse industries. His current client roster includes: Dove, Nexxus, LinkedIn, Google, SalesForce, FX Network.
Liana Blum: Deputy Photo Editor - Vox Media
Fern Breslaw: Art Director - Wunderman Thompson
Will Morel: Senior Producer - Freelance (Previously UEG/23andMe)

& MORE!