Feb. 14 - Photographing LGBTQIA+ Couples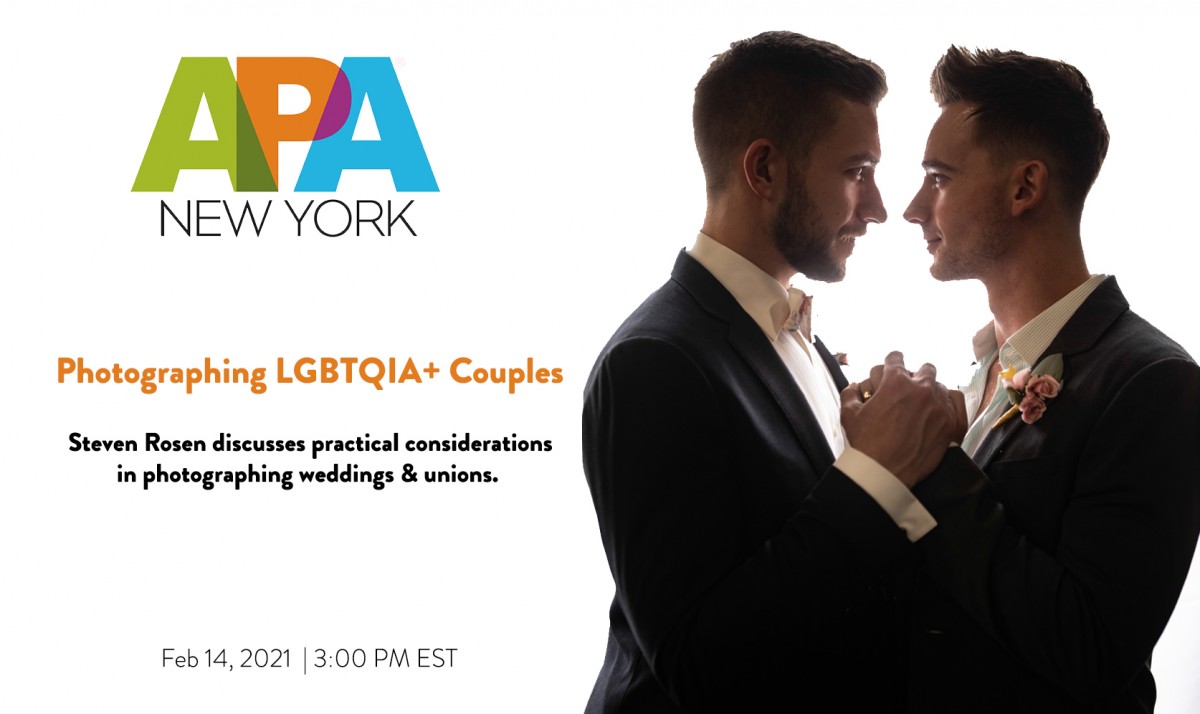 APA New York presents a discussion with photographer Steven Rosen on the ever-changing landscape of photographing weddings and unions.
Steven has been photographing LGBTQIA+ couples since 2005 and was photographing "commitment ceremonies" for years before marriage equality became the law. Along the way, he's discovered just how different the job can be when presented with two black suits, two white dresses, or variations in the ceremony itself. Working with LGBTQIA+ folks has taught him to approach posing, lighting, groups, rituals, and product offerings in a whole new way.
As a gay man, he's been an activist advocating for marriage equality since his first husband passed from HIV in 1996, and he quickly realized that, even though they filed as domestic partners and he was his sole caregiver, once he died, Rosen had zero legal rights. The government considered them strangers.
This is personal for him.
Marriage equality has only been with us since June 2015, and it has spurred Rosen's mission to educate other photographers about the ins and outs of what it means for photographers to capture every client's memories in an authentic way.
He has worked with over 150 LGBTQIA+ clients over the years and encourages other photographers to be as inclusive in offering their services, regardless of what the current law is. Join us for this important discussion as Steven helps you prepare so you can provide the best possible services to all of your clients.
About the Speaker:
My name is Steven Rosen, and I am a Brooklyn-based wedding, event, and portrait photographer. Photography is my fourth act. I started as an illustrator, migrated to 10 years as a jewelry designer, moved on to 10 years of designing souvenir books for DisneyWorld, and then found my way to photography. I've been an awarding-winning wedding and portrait photographer for almost 20 years now, having shot over 350 weddings and well over 1000 portraits. In addition to client work, I have been capturing a wide range of subjects over the last 20 years. I work with all types of couples but am proud to have shot more than 130 same-sex weddings, which is probably more than, well, just about anyone. That said, I've worked with all different types of couples. I don't discriminate. I'll even work with straight people. There are many other photographers whose work inspires me, but my primary inspiration comes from painters. Especially John Singer Sargent. I long for the days that people sat for portraits. Enough with the selfies already! Not to brag (well maybe to brag just a little) I've won numerous awards including the 2014 Rangefinder Wedding Photography contest, People's Choice award. First Place winner 2013 Top Knots contest for best wedding photography of the year, getting ready division. Winner 2013 Faces contest for best portrait photography of the year, children's portrait division. I've also been featured in many magazines, newspapers, and online publications including CNN.com, Photo District News, Rangefinder, The New York Times, Newsday, New York Daily News, Shutterbug Magazine, Wedding Pride Magazine, NYC Pride Guide, Time Out New York, The OffBeat Bride, Connextions magazine, and various jumbotrons across Times Square.