Apr. 23 - Open Talk Ep. 7 | Special Guests: Alex Garcia, Katrin Eismann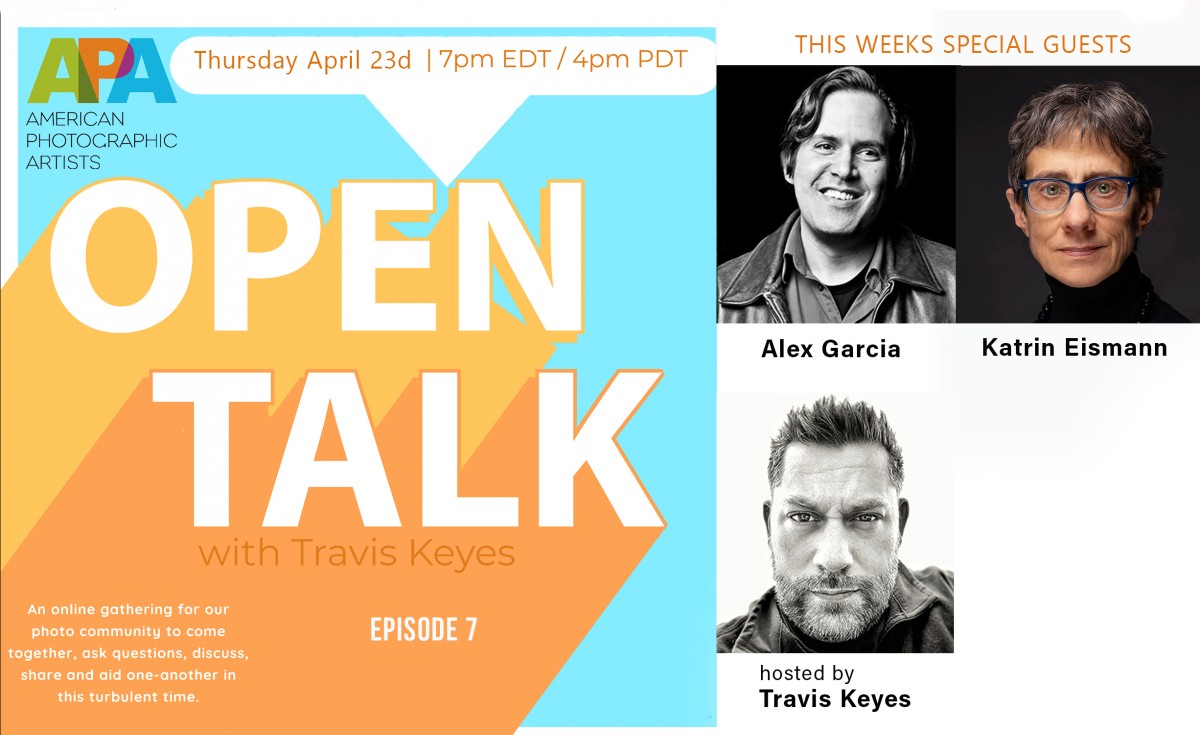 Open Talk is an ongoing series discussing the current state of photography in the age of COVID-19. In the Zoom webinar, you will be able to be a part of the conversation and ask questions in the chat.
About the Speakers:
Alex Garcia: Photographer
As a Chicago commercial photographer and photojournalist, I've been telling stories through some 6,000 assignments to date. Along the way, I have the rare distinction of being part of the highest awards in both advertising and editorial; a Titanium Lion at the Cannes Lion International Festival of Creativity and a Pulitzer Prize. Along with several other accolades, HarperCollins has called me "one of the world's leading photojournalists." Whether it be stills, motion or a hybrid shoot, I've learned to be resourceful, creative and dependable no matter the circumstance or level of production. I enjoy the benefits of being a sole photographer as much as I enjoy working with a team to achieve creative objectives and art direction on a larger production.
Katrin Eismann: Product Manager @ Adobe, Sony Artisan of Imagery
Katrin has been involved with digital imaging since 1989 and considered a pioneer in digital imaging. She is awell-regarded artist, author, and educator. I received my BFA degree in Photographic Illustration from the Rochester Institute of Technology and my MFA degree in Design at the School of Visual Arts in New York City. I am the author of Photoshop Restoration & Retouching and Photoshop Masking & Compositing and co-author of The Creative Digital Darkroom and Real World Digital Photography – all of which have been translated into numerous languages. I am a popular speaker at the PMA, ASMP, PPA, PhotoExpo, and Photoshop User conferences. My images have been featured in numerous books, magazines, and group and solo exhibits. Presently, I am the chair of the Masters in Professional Studies program in Digital Photography at the School of Visual Arts. I spend too much time in airports waiting for flights to domestic and international destinations to fulfill a busy and rewarding consulting